by Renée J. Lukas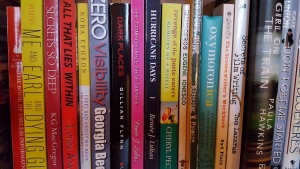 For me, going outside in the winter is like going outside on the moon without a suit. I don't like to do it. When I do, I'm so bundled up, I walk like someone in a full-body cast as I take the garbage to the curb. To my neighbors, I'm Sasquatch, rarely seen but rumored to exist.
If you too are an indoor person who doesn't spend your winter skiing black diamond slopes or battling avalanches, then I have some recommendations for you.
Go see Hidden Figures. Run, don't walk to the theater. Or drive safely if the roads aren't plowed. Hidden Figures is a quiet film that moved me by simply holding up a mirror to our history. The film is powerful in its ordinariness. What I mean by this is that it depicts the deeply rooted racism of the time period in the ordinary, day-to-day lives of three African-American women.
One of them, Katherine G. Johnson, played by Taraji P. Henson, is able to do math equations that would make me cry. Because she's a top-notch mathematician, she's invited to work in the department of NASA that calculates flight trajectories for missions. She must work in a building that has no "colored" restroom. So she must run out a few times a day, past three or more other buildings, rain or shine, just to use the bathroom. It's situations like these that force you to reflect on where we were as a society back then and where we are today. This is especially relevant in light of today's political climate.
Try to see any or all of the Oscar-nominated films, because watching the Oscars is so much more interesting when you've seen the nominees.
If you're physically unable to handle any more politics on TV,  check out a Netflix original series. They have some amazing offerings, particularly a new series called Travelers.  This is a strange, addictive show that tells the story of a number of "travelers" who are people sent from the future to prevent catastrophic events before they happen so they can alter the future for the better. A unique twist: These travelers inhabit the body of someone who's about to die. The result is the person has no memories of her/his spouse, life, etc., while the person's loved ones never know that that person was meant to die. So, while trying to save the world, the travelers must appear normal to their families and co-workers in their daily lives. Not an easy job. This job is further complicated by other travelers, some of whom may or may not have good intentions. By the end of season one, so much s—- has hit the fan, there had better be a second season!
Watch Black Mirror. Disclosure—I've only watched three or four episodes, but I recommend it so far. This series could be a bit depressing if you're someone who is depressed by everything already happening in the world today. But Black Mirror is an interesting, if not gloomy, representation of the possible directions technology may take us—and not for the better. For example, it takes the idea of branding yourself online to an extreme. Imagine getting "rated" by others to such an extent that it affects your ability to get a plane ticket, good service, and even impacts your social and love life. Another issue is hacking, which many of us have already experienced. Black Mirror takes hacking to an extreme to show how it can so easily destroy lives.
The idea that our humanity hasn't caught up to our technical progress has never been so obvious as in this series. You'll think twice the next time you use your phone, your social media accounts, everything, after watching this. Okay, it's creepy. But good.
After each episode I've seen so far, I found myself wondering why I watched it. I guess I like anything that's so provocative it makes me question something I take for granted. If the same is true for you, Black Mirror may be worth a look.
Before I go, check out my earlier posts about Orange is the New Black. I envy anyone who hasn't seen it yet because you have four compelling, entertaining, awesome seasons to look forward to. If I told you I've watched all the seasons of this show at least twice, you might assume I don't have a life. Au contraire! To be a good writer, I believe in studying good writing. And they don't get much better than Orange is the New Black.
Last but not least, curling up with a good book is always a good idea. Want a good laugh? The Comfortable Shoe Diaries looks at the social lives of lesbians in a way you haven't seen before. For a scandalous political drama that has nothing to do with Donald Trump, Hurricane Days gives you a sultry, rip-your-heart-out love story. Its sequel, In Her Eyes, is due out in July. And there's Southern Girl, a sometimes funny, sometimes gut-wrenching coming-of-age story about a lesbian growing up in small town Tennessee. Besides my own novels, of course, check out all the great titles at Bella Books. There's romance, sci-fi, crime thriller, young adult and much more.
Hopefully these ideas will help you pass the blustery days of winter. And I'd much rather do any of the above than scrape ice off the car. . .